"It's not the load that breaks you down it's the way you carry it."
Myofascial Release Workshop
Friday April 2nd 6-8pm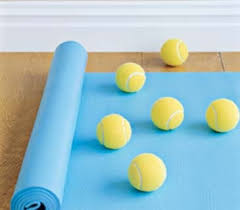 This two hour workshop will teach myofascial release techniques, incorporating yoga blocks and yoga tuneup balls to release built up tension in muscles and fascia. What is myofascial release? Fascia is connective tissue that surrounds everything in our bodies, from muscles, to bones, to internal organs. Like muscle, fascia can get tight and fatigued if not exercised regularly. Trigger points are areas of high nerve density in muscles and fascia. By applying pressure to these trigger points we send a signal to our brain to oxygenate muscles and fascia with increased blood flow to the area. This increased blood flow reduces muscle fatigue and pain. The brain/body connection can further be developed by activating muscles immediately after releasing trigger points through stretches and strengthening exercises.
In this workshop, Annie will teach 1-3 myofascial releases at a time, followed by stretches and exercises to target the muscles just released. This workshop is designed for all levels but please note that certain releases can cause anywhere from slight to moderate discomfort and may not be suitable for everyone.
(Sanitized) props will be supplied, but if you have your own blocks and/or myofascial release balls please feel free to bring them!
COST: $40, $35 For In Studio Recurring Membership Holders
Can't make it into the studio? No problem! This event will be recorded and we will be happy to send it to you so you can participate from home. Just let the studio know after you purchase.
© Copyright Bending Bodhi 2020