"It's not the load that breaks you down it's the way you carry it."
Myofascial Release Workshop
Friday November 18th 6-7:30pm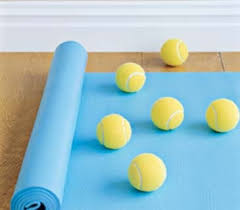 Learn to let go of tension during this 90 minute myofascial release workshop. Class will begin with a slow flow and gentle stretch before moving into a full body self deep tissue type massage. Annie will guide you through myofascial releases for all of the major muscles that we tend to hold tension in. We will use yoga blocks and balls to place pressure on specific points in muscles and use our breath and the heat of our bodies to release tension in those muscles.
This workshop is appropriate for all levels, but know that certain releases can cause discomfort as muscles let go of tension. (Think: hurts so good type of sensation). You are welcome to attend this workshop if pregnant, but know that some of the releases are contraindicated in pregnancy, so please let Annie know if you are pregnant.
Cost:$35
© Copyright Bending Bodhi 2020